The massage therapist who found her own healing art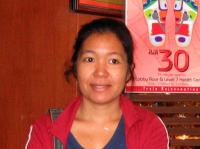 Dr. Sirichan Maneechai aka Dr. Nooy
Education in traditional massage and medicine

Sirichan (Dr Nooy) started to learn massage when she was 8 years old with Wissim, her grand-mother, who was master in midwifery and Thai herbs.
Wissim had put the seed of a great therapist into her grand-daughter and day after day, she was nurturing her. Later on, Sirichan went to learn at the temple, with other masters around Thailand and finally got graduated as Doctor in Thai medicine, midwifery and massage therapy.
Developing one's own healing art

Dr Nooy has now developed her own art and science of healing by mixing more than 12 Thai modalities. Sirichan is specialized in traditional Thai massage, face massage, herbal treatments, Tok Sen and abdominal massage, as well as bone setting, ear treatment, cupping therapy,...
Some of our most amazing treatments include: abdominal massage, facial, relief of chronic physical pain.
But all that is not enough. The real difference comes from a clear understanding of health, body and mind, a proper experience as well as a firm commitment.