Some good reasons for a Thai massage therapy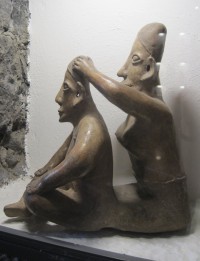 We provide ancient massage for the modern world
Since ancient times, medical massage has been integrated to all major traditions of the world. Today it is fully recognized as one of the best complementary and alternative healing methods against illness and physical problems.
We provide a wide array of Northern Thailand's authentic traditional therapies. These therapies have been adapted to the physical issues due the modern world: stress, tiredness, sitting, computer-work, blockages,... We have adapted the techniques when necessary, and we apply them with the same greatest care, loving kindness and in the same spirit as transmitted by Thai ancient master healers.
Medical massage is good for you: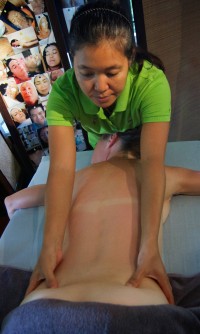 Therapeutic Oil Massage
1. If you want to experience a traditional medical check-up and therapeutic treatment from a master massage therapist, as a preventive or curative measure.
2. If you have an existing physical pain, chronic or temporary, like:
Lower back, shoulders or neck pain
Knee or ankle pain
Muscle knots
Persistent low energy
Old injuries
General discomfort
Chronic numbness
Posture imbalance
Ear disorder
Wrinkles - facial tiredness…
3. If you are doing yoga, dance or sports. Medical massage greatly enhances your practice (e.g. flexibility, power, awareness,...) and avoid or stop injuries. 
Moreover if you have been practicing the same movements for a long time without counter-balancing your body with massage, you probably have accumulated tensions in some areas, including legs, back or the abdomen which is the center of our tensions and blocked emotions.
4. If you sit the all day. A sedentary life impairs the self-healing functions of the body. Medical Thai massage improves blood and lymph flow, tones muscles, stretches soft tissue,... making your energy flow freely again. A good massage makes you feel lighter and younger.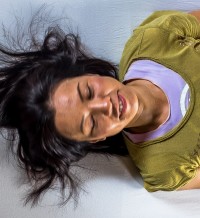 5. If you have accumulated tensions over years, the gateway to release them is a deep massage therapy. Unlocking the body is most of the time a first or complementary step to be free from tensions and blocked emotions. An  abdominal detox therapyor a face therapy can help you to find back your original energy.
6. A regular massage plan for long-term preventive care is a good and affordable option for anybody, including the most sedentary people, to stay healthy and strong.
7. For mothers-to-be, pre- and post-natal massage has been largely developed in the medical tradition of Thailand.
8. If you have some kind of weakness, like a feeling of low energy or physical imbalance, but finding no reason. A traditional check-up will give you some answers, and massage will help you to recover your original strength and energy.